Hot Topics: March 2015: Doris Baker Named Honorary Member of the Regiment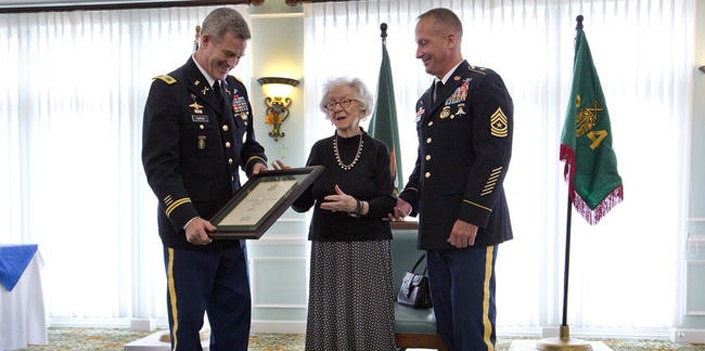 Col Carran, Ms. Baker and SGM Raube
History was made on Wednesday November 5th in Virginia Beach as only the third woman has received a rare honor from the U.S. Army Special Forces.
Doris Baker, 97, is one of only 10 people to be named an honorary member of the regiment. She received the honor on Wednesday during an induction ceremony at Atlantic Shores Retirement Community in Virginia Beach.
"The U.S. Army Special Forces has been around since World War II, and yet there have only been nine official honorary members of the regiment," Col. Matthew Carran, commandant of Special Forces at the Army special warfare school at Fort Bragg, North Carolina, said at the ceremony. "It doesn't happen often."
"I wish I could hug every one of you," Baker said after receiving the award.
Baker spent her entire 29-year career at a Defense Department school for Green Berets' children in Bad Toelz, Germany, serving as a teacher and then principal from 1950 to 1979.
Carran said a nomination packet he received for Baker showed a woman who went beyond the call of the duty. She served as a mentor and offered guidance to the soldiers, students and their families.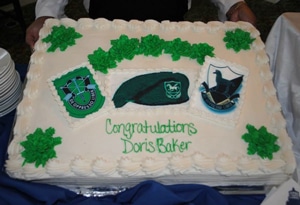 The Special Forces Association made her an honorary member of SFA Flint Kaserne Chapter 65. Members of SFA Chapters 4-24, 65 and 84 were part of the endorsements packet. The Green Beret Foundation also made a special presentation.
The packet contained endorsements from Dr. Michael Vickers, the undersecretary of defense for intelligence, and Lt. Gen. Charles Cleveland, now head of the Army Special Operations Command, along with others former members of the 10th Special Forces Group who were posted in Bad Toelz when Baker worked at the school.
Deputy Director of DoDEA Dr. Adrian Talley also presented Baker with a certificate having been the only DoDEA employee to ever be made an honorary member of the Special Forces Regiment.
"I'll remember this for the rest of my life, I don't think there will ever be another day in my life like this," Baker said.
Virginia Beach's City Council also honored Baker by declaring Nov. 5 Doris C. Baker Day.